We are Penn State online. Penn State World Campus offers more than 100 accredited graduate degrees, undergraduate degrees, certificates, and minors. These online programs are taught by the same faculty who teach in the academic colleges at Penn State — your degree or certificate is the same one that our on-campus students receive. Choose from a wide range of topics at all program levels and start earning your Penn State degree or certificate online. Explore available programs by topic area, or proceed directly to the graduate or undergraduate listings.

Penn State World Campus offers a variety of online degree and certificate programs. The topic areas are organized to help you identify an undergraduate or graduate online degree or certificate by the subject area that interests you the most.
Penn State World Campus is the online campus of Penn State. Grounded in a tradition of quality since 1855, a degree from Penn State means something. Penn State is a nationally recognized institution, with the largest* alumni network in the nation.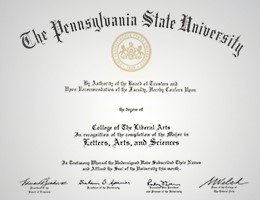 Our online courses are the same courses that we offer on campus. Therefore, your diploma will look no different from the one earned by students on our physical campus. It will not differentiate the method of delivery or state that your degree was earned online.
Our programs are also accredited through the Middle States Association of Colleges and Schools. Many of our individual programs have additional accreditations through governing bodies in those particular fields of study.
WHERE WE STAND
For more than 150 years we've been leaders in higher education, as shown by rankings from those who monitor academe from the outside. Here are a few examples of recent rankings, primarily relating to our academic standing.
RECENT RANKINGS
U.S. News & World Report, America's Best Graduate Schools 2016
U.S. News 2015 Best Online Program Rankings
Penn State is ranked No. 1 for the best online bachelor's programs in the country in U.S. News &
Times Higher Education World University Rankings 2014-15
Penn State is ranked among the top 100 universities in the world, at 58th, by the Times Higher Education World University Rankings for 2014-15. (10/2014)

Center for World University Rankings 2014, Top 100